The City provides a standard two bin system to residential properties within the City. This includes a:
240-litre waste bin (dark green lid), collected weekly
240-litre recycling bin (yellow lid), collected fortnightly
General waste bin tips (green lid)
Keep the weight of the bin below 70kg
Ensure the lid can be fully closed
Clean the bin regularly
Freeze seafood and odorous waste
Place in bin the night before collection
Place bin out by 6.00am on collection day
Place your bin as close as possible to the road/kerb (within 1 metre) in an upright position with wheels facing the house
Return your bin to your property no later than 24 hours after collection
General Waste bins (green lidded bin) are collected weekly.
General waste bin collections scheduled on public holidays will still take place as normal with the exception of Christmas Day.
Click on the Near Me tool and search your property to find information on bin collections, verge collections and more.
Things to put in your general waste bin
Food scraps
Nappies, wipes and sanitary products
Garden waste
Animal waste and kitty litter
Seafood waste (wrapped in newspaper)
Ceramics/ Pyrex
Plastic plant pots*
Treated timber
Bottled cooking oil
Polystyrene
Plumbing/ reticulation pipe and fittings
*Plastic pots can be recycled at Bunnings.
Things to leave out of your waste bin
Batteries (household and car)*
Recyclable materials
Chemicals
Light globes*
Soil, sand and rocks
Building materials
Hazardous waste
Gas bottles
Hot ash
Motor oil
Syringes and medical waste
Asbestos
*Household batteries and CFL bulbs can be recycled at the City's recycling hubs. Car batteries should be placed on top of or beside your kerbside bin on collection days or taken to the Waste Management Centre.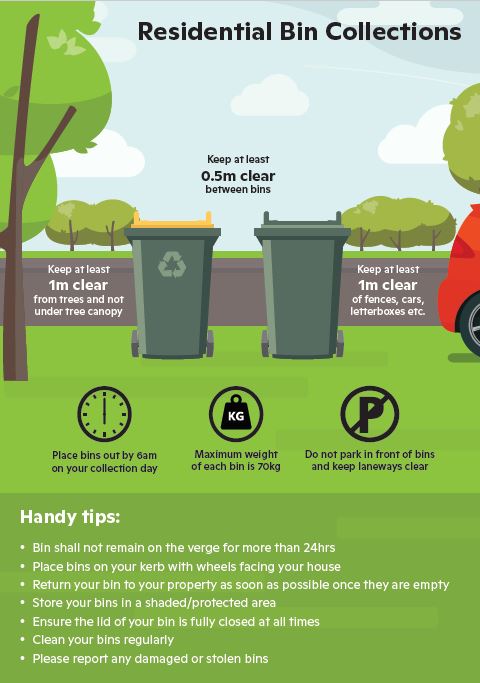 FAQs
What do I do if my bin was not emptied?
Contact the Waste Alliance Customer Service Centre on 9587 4660 or email: MHwaste@cleanaway.com.au
I forgot to put my bin out on the designated collection day and I need it emptied, what do I do?
Contact the Waste Alliance Customer Service Centre on 9587 4660 or MHwaste@cleanaway.com.au to explain what has happened. If you contact the CSU on the same day as your collection day it is likely that the truck will be able to return to collect your bin. If you contact the CSU the day after your bin collection day, the truck will only return to collect your bin under special circumstances. It is therefore important residents place their bins on the verge by 6.00am on your allocated collection day.
What do I do if my general waste or recycling bin is broken and I need it replaced?
Contact the Waste Alliance Customer Service Centre on 9587 4660 or MHwaste@cleanaway.com.au. Your bin will generally be repaired/replaced within 3 working days of lodging your request.
What do I do if my bin is full and I have more waste to dispose of?
Your options are to wait for the bin to be emptied on your normal collection day or take the excess waste to the City's Waste Management Centre located at 80 Corsican Place, Parklands. Disposal fees will apply at the Waste Management Centre if you do not have a valid waste voucher.
Why does the City of Mandurah not have a third bin?
Council considered the implementation of a third bin for food and organic (FOGO) waste at its meeting on 26 April 2017 and resolved not to proceed with this proposal as it was committed to the Avertas Energy Waste to Energy facility. The reasons for not implementing the third bin service can be summarised as follows:
Significant financial cost to ratepayers (additional bins and trucks, collection costs and waste processing costs, etc.) that does not appear, at this stage, to justify the environmental and social benefits gained – high cost; low benefit (the third bin would cost ratepayers about another $80 per household per annum)
Provides increased capacity to generate more household waste, which is contrary to the first two tier principles of the waste hierarchy to avoid and reduce household waste
Contamination that may impact on the quality and use of the final composted product
Potential over-supply of end product due to increased capture of green waste
Lack of available space to store bins on properties
Additional truck movements in residential streets, creating risk and increasing wear and tear
Increased transport carbon emissions
The need to consider the total environmental benefits of pick up and composting versus the significant reduction in emissions from waste to energy
Waste combustion produces less greenhouse gases than composting
The City is a member of the Rivers Regional Council (RRC) – which also includes the Cities of Armadale, Gosnells, South Perth and the Shires of Serpentine-Jarrahdale and Murray. A few years ago, the RRC, on behalf of its members, tendered for a waste processing facility to treat all of the regions municipal waste, in lieu of the current practice of landfilling. Following a three-year procurement process, the RRC and the individual member Councils (including the City) signed a 20-year contract with Avertas Energy who are currently constructing a Waste to Energy facility in Kwinana. Avertas Energy will thermally treat all of the City's waste (excluding the recyclables in the yellow lidded recycling bin) and convert it into energy, which will be supplied back to Western Power. The City also has the ability to purchase power back from Avertas Energy at a reduced price to current electricity prices for use within Council buildings.
The Avertas Energy plant is a $675 million project (which will be a first for Australia) and is currently under construction and should be operational mid 2024. The plant will result in over 90% of the City's waste being diverted away from landfill, which far exceeds the diversion rates targets included within the State Government's Waste Strategy 2030.