Everyone loves a long weekend and there's nowhere better than Mandurah

to enjoy them!

We've reshaped our events season to bring you a great line up of experiences - so there's never been a better time to experience Mandurah.

Soak up the summer vibes with great music, live shows, sport and family experiences while supporting our local businesses.
---
About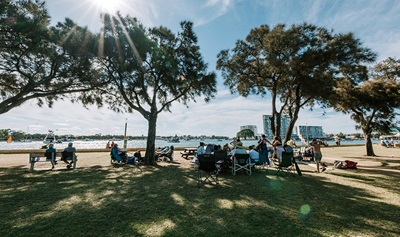 Our events season is really important to us. Not only does it connect and activate our community, it also injects around $16 million into our local economy.
There's so much on offer in Mandurah with our program of endless long weekends. So why not stay a while? Make a long weekend of it and experience more of what Mandurah has on offer. The Mandurah's Longest Australia Day Weekend (January 23-26) kicked off the program, with more to come between now and the end of April check out the full calendar…
Mandurah's Longest Australia Day Weekend: 23-26 January
Summer Cruise & Bar Crawl: 29 January
Valentine's Weekend Mandurah: 14 February
Beats By the Beach: Every Saturday from 20 February to 13 March
Fringe Mandurah: 26 February - 1 March
Retro Mandurah: 5-7 March
Secret Sounds of the City: 10 March
Kanyana Weekend: 19-21 March
Top of the Terrace: 20 March
Easter in Mandurah: 2-5 April
Action Sports Games: 10-11 April
Flair It Up Mandurah: 16-18 April
Ashley Black Memorial Rodeo: 24 April
Amendments will be made to the calendar of events as required based on the latest COVID-19 restrictions.